Weekend Bolts: Is It the Draft Yet?
To receive Bolts in your morning inbox (hours or days before they publish to DailyThunder.com), join our supporters on Patreon.
---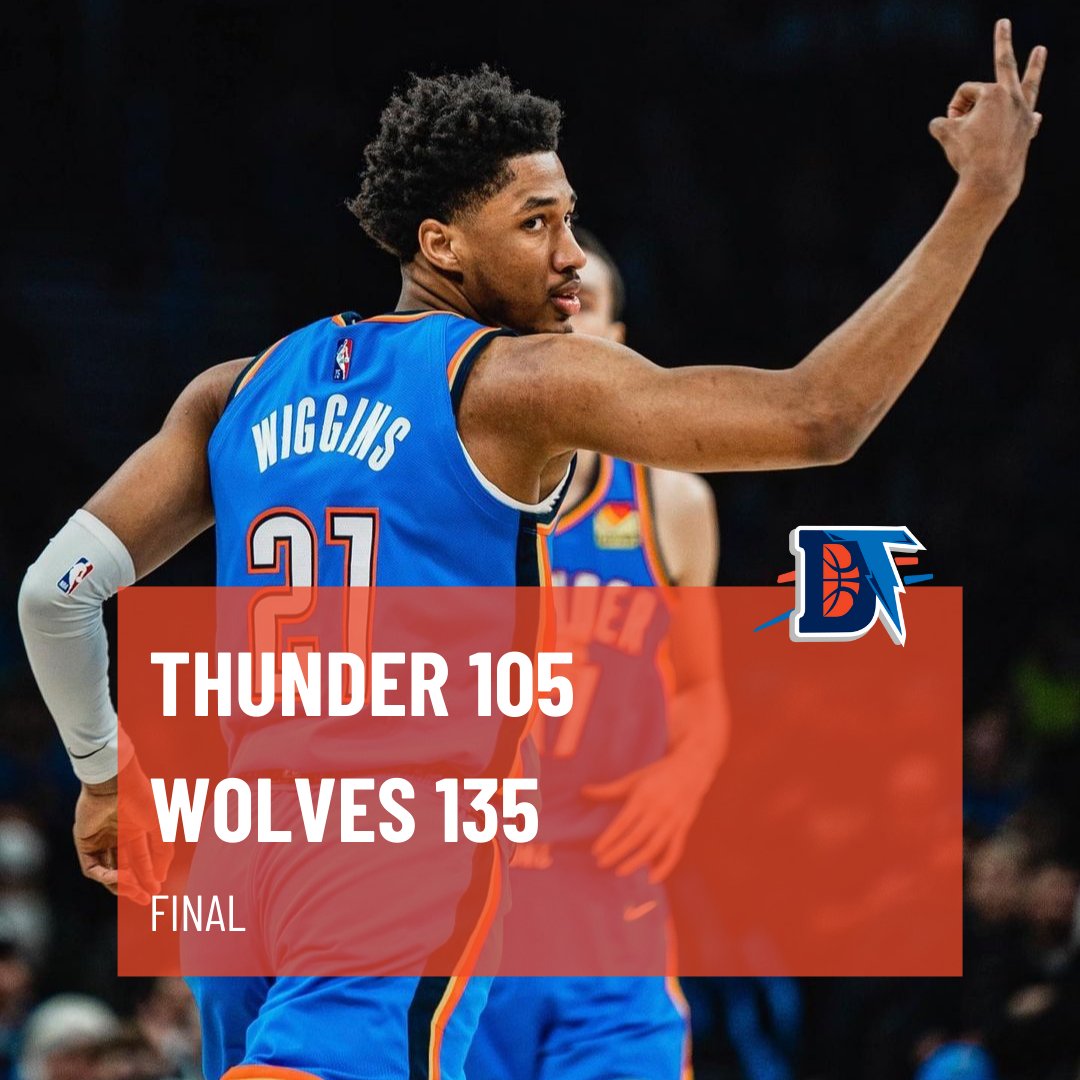 Assuming one or two productive Thunder players get traded before the deadline, the gap between Oklahoma City wins and losses should continue to grow. There will still be on-court development to monitor over the second half of the season, even from surprise sources like Aaron Wiggins. But the likelihood of this team playing enough above its head to keep things interesting, so to speak, will only dwindle. Seven of the team's 13 wins so far have come during winning streaks of three and four games, a phenomenon that will become harder to duplicate no matter how hard I jinx it here.
As a proud team-tanker Recycler, this doesn't bother me. But as the losses stack up, my eyes will wander increasingly to the next crop of draft prospects who could end up in Thunder blue (or on the Thunder Blue). Thankfully, forward-looking topics like fake trades and mock drafts are proliferating for the OKC reader, as is evident in today's bolts.
The Bolts:
The Wolves trounced the Thunder.
Mark Daigneault is finally out of covid protocols. He had an asymptomatic infection.
Aaron Wiggins' double-digit scoring streak reached seven games in the loss.
The Thunder still aren't all the way out of the protocol woods, but Isaiah Roby is the lone player being isolated for now.
Sam Vecenie (The Athletic) mocks the 2022 draft, placing Jaden Ivey with OKC at #4.
John Hollinger (The Athletic) wants everyone to know about Kenrich Williams: "Winning plays by "Kenny Hustle" at both ends have been a big reason the Thunder have won with alarming frequency (for fans who want Paolo Banchero to play in Oklahoma next year), somehow standing at 13-24 and staying in the fringes of the Play-In race despite a roster that looked absolutely Tanktacular."
Kyle J. Mann and Kevin O'Connor discussed the "weirdo Thunder" on their latest Ringer podcast.
HoopsHype ranked Shai Gilgeous-Alexander 7 among all under-25 players in the NBA.
Would Jalen Smith be a good trade target for OKC? DT's Brandon Rahbar thinks so.
The first round of All-Star fan voting didn't register any Thunder players. You'll notice an important OKC legend is on the list, though: Carmelo Anthony.
Moses Brown is hanging on with the Mavericks.
Ben Koo (Awful Announcing) unpacks the success and disappointment of The Athletic now that it's getting acquired by the New York Times. If any venture capitalists out there are looking for the next big thing, Daily Thunder could put a couple million bucks to good use.