Wednesday Bolts: 05.20.20
Should Terrance Ferguson's days as a starter be over in OKC?
ICYMI: The Thunder reopened their practice facility for voluntary workouts and say they've worked with public health authorities to ensure coronavirus testing of their personnel won't hurt to the community's broader needs.
In the first major awards announcement of 2020, Steven Adams wins the Dan Le Batard Show's "Looks Like" contest. He won for looking like "Poseidon's less successful brother, Joeseidon- God of Canals and Inland Waterways".
Frank Zanin has been hired out of the Thunder's scouting department to serve as the Knicks' new Assistant GM, per Mike Vorkunov (Athletic).
Jaylen Brown said that Billy Donovan motivated him by withholding playing time when they were both a part of Team USA's under-18 squad. Transcribed by Mark Murphy (Boston Herald).
Erik Horne (The Athletic) goes deep with video and analysis from scouts on Terrance Ferguson's stagnating play.

Adrian Wojnarowski reports that Utah's Bojan Bogdanovic underwent season-ending wrist surgery. That could have ramifications for a potential OKC playoff run if/when the season suspension ends. Jazz/Thunder is the current 4/5 matchup if no more regular season games are played.
DT Senior Writer and med student Olivia Panchal says the ligament repaired is commonly torn from a sprained wrist:
Bryan Zinschlag (Hoops Habit) previews the Thunder's 2020 offseason.
Daily Thunder alumnus Tyler Parker stars in "The Last Tango" for The Ringer, a mesmerizing documentary about a blog boi's quest to achieve sports media glory.
As league activity begins to thaw, Larry Nance Jr tells Brian Windhorst (ESPN) he hopes players with health fears will receive grace if they're not comfortable coming back to play yet (Nance has Crohn's disease).

And here are your obligatory Jordan bolts:
The latest talking point from The Last Dance: would MJ's Bulls have won seven straight titles if they weren't broken up before the '98-'99 season? This is actually not a hypothetical. The answer is 100% no because they lost in the playoffs with Jordan in '95. It was in the documentary and everything. If they won in '99 that would have been a 7-1 stretch with Jordan. Unless you accept Jordan's excuse ("I was tired") for losing to the Magic in those '95 playoffs, in which case we can start adjusting LeBron's 3-9 Finals according to James' excuses.
Thunder coach and player legend Maurice Cheeks talked to Joe Mussatto (Oklahoman) about playing against Michael Jordan.
Horace Grant said Michael Jordan is being a poor teammate by putting so many on blast in his "so-called documentary" during a recent radio interview (transcription from ESPN's Nick Friedell):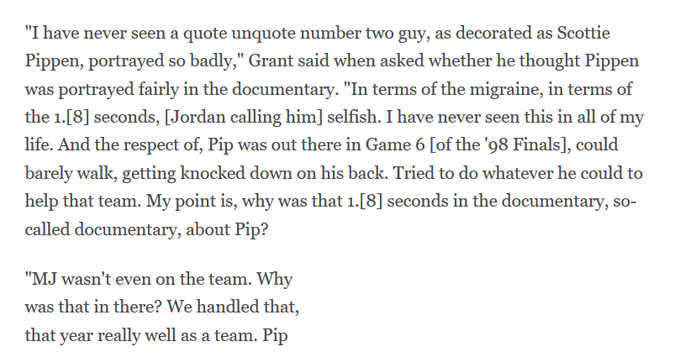 Shawn Windsor (Detroit Free Press) says that the fight for Michael Jordan's GOAT status is also a fight about us.