Westbrook wills the Thunder to victory over the Grizzlies, 103-100
Russell Westbrook was one rebound shy of breaking Oscar Robertson's record and the Westbrook Show was in full effect tonight. With 14 seconds left in regulation, Russ hit a clutch three-pointer over Tony Allen to put the Thunder up 4 points. Russ ended the night with 45 points, 9 rebounds, 10 assists and 5 steals. He hit a career-high 8 three-pointers and willed the Thunder to victory.
The Thunder really emphasized scoring at the rim and playing in transition in the first half. Westbrook might not have a roster that perfectly fits around him, but he has athletic guys that can score in the paint. OKC went on a 6-0 run to start the game, scoring all of those points in the paint. By the end of the half, OKC was +17 for fast break points, but Memphis was steadfast, allowing OKC to go up by only 7 after two quarters. The Grizzlies grinded their way through the second half of this one. The Thunder went scoreless for the first four minutes of the fourth quarter and only scored 6 points in the paint for the last half of the game. It came down to the wire, but the Thunder have Russell Westbrook on their team and the MVP candidate put the team on his back.
Marc Gasol was great in this game, he had 23 points, 5 rebounds, 5 assists, 2 steals and 4 blocks. He's an elite Center in the NBA and is terrific even when Andrew Harrison is starting at point guard. Zach Randolph provided a nice scoring punch off the bench for Memphis with 20 points, 9 rebounds, 1 assist and 1 steal. The Grizzlies are most likely facing the Spurs in the first round and I'm so happy I don't have to watch a first round match-up against the Grizzlies.
With this win, the Thunder are further cementing themselves as the sixth seed. The Spurs might be a better match-up for the Thunder, but try telling that to Russell Westbrook.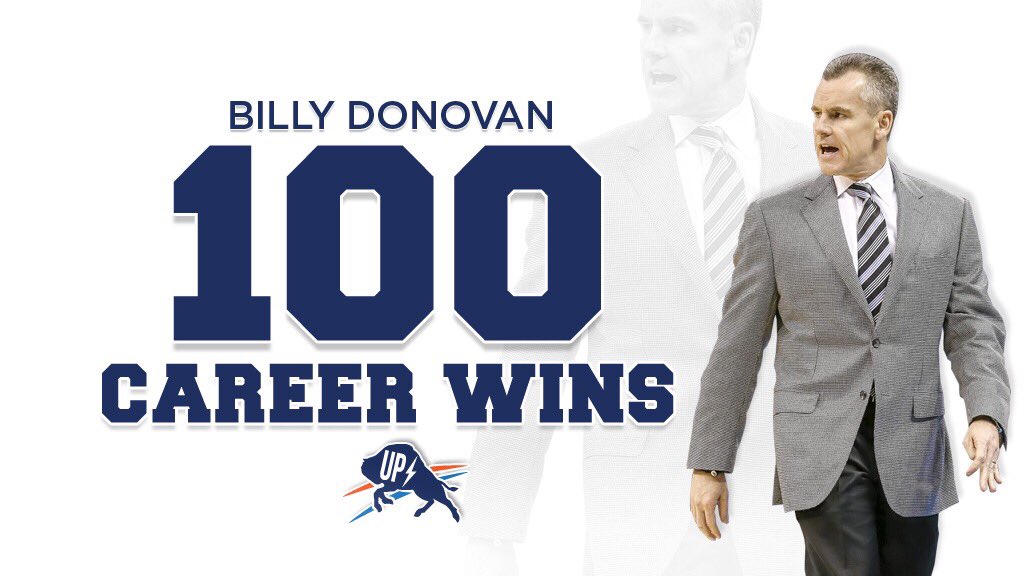 Notes
Billy Donovan now has 100 wins as an NBA head coach. He's been a great coach for this team and has really represented the organization well.
Neither team played at full strength for this game. Mike Conley was out with an eye injury, Abrines didn't make the trip to Memphis due to a sprained knee and Roberson missed the second half of the game due to knee soreness. It's always best to be cautious before the playoffs and getting everybody fully healthy should be a top priority.
Taj Gibson deserves a ton of credit for getting the offensive rebound that allowed Russ to hit the clutch three-pointer. This is just one example of how a guy like Gibson helps this Thunder team.
There was a Nick Collison sighting this game! The third quarter turned into a grit-n-grind fest, and when Russ subbed out late in the third quarter, they put in Mr. Thunder to help shore up the defense and conjure up memories of old against old rival Randolph.
Andre Roberson hasn't made a three-pointer in ten games. He missed half of this game, but I think this is a point worth emphasizing. Hopefully his shooting picks up a little bit in the playoffs.
The Thunder ended the night +13 for fast break points, +6 in rebounds and +5 for three-pointers made. Memphis was +13 for points off turnovers and +10 for points in the paint. This was a close game, but both teams were finding different ways to be effective.
Why did Andrew Harrison play 37 minutes in this game? That's the biggest question I have for this recap. I know Mike Conley was out, but that seems a little ridiculous. Maybe his twin Aaron was subbing in for him during timeouts. I'm not trying to be too much of a conspiracy theorist, but I'm not ruling anything out.
Steven Adams may have only scored 5 points on 2-of-8 from the field, but he grabbed 10 rebounds. 5 of those rebounds were offensive rebounds and winning the rebounding battle is a big deal against a team like Memphis.
The Thunder go 3-1 for the season series against the Grizzlies.
Russ has now clinched averaging at least 30 points per game for the season. He's only 6 assists away from officially averaging a thirty-point triple-double.
Next Up: On Friday in Phoenix at 9:00 pm CST.